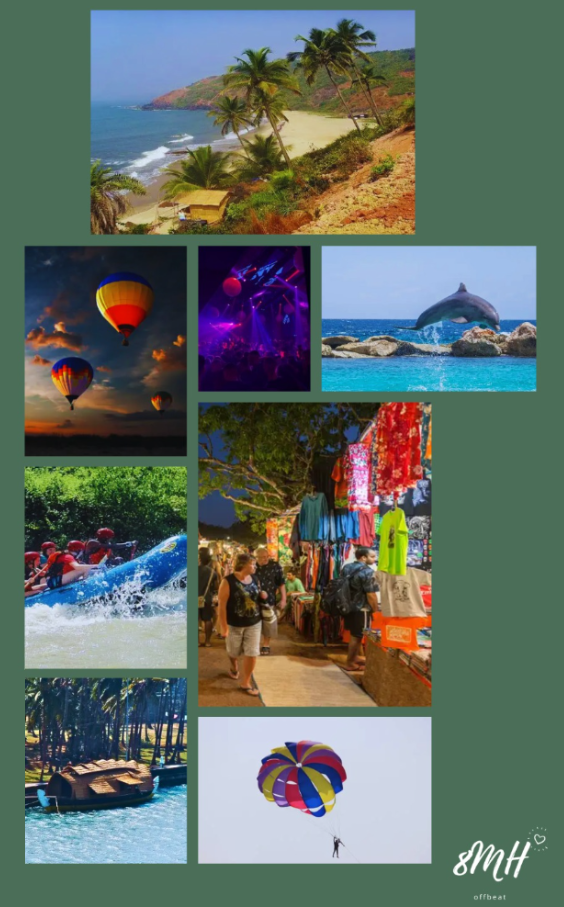 Exploring the Vibrant Paradise: Must-Do Activities in Goa
Located on the western coast of India, Goa is a paradise for travelers seeking sun, sand, and a vibrant atmosphere. Renowned for its stunning beaches, rich cultural heritage, and lively nightlife, this coastal state offers an array of unforgettable experiences. Whether you're an adventure enthusiast, a history buff, or a relaxation seeker, here are some top things to do in Goa that will make your trip truly memorable.
Soak Up the Sun on Goa's Pristine Beaches:
Goa is synonymous with pristine beaches that stretch for miles along the Arabian Sea. From popular beaches like Calangute and Baga to quieter ones like Palolem and Morjim, there's a beach to suit every preference. Relax on the golden sands, take a dip in the azure waters, indulge in water sports like jet skiing or parasailing, or simply bask in the tropical ambiance while sipping on a refreshing coconut water.
Explore Goa's Rich History and Architecture:
Goa has a fascinating history influenced by Portuguese colonization, and this is reflected in its architecture and historical landmarks. Visit the UNESCO World Heritage Site of Old Goa, home to ancient churches like Basilica of Bom Jesus and Se Cathedral. Explore the well-preserved forts such as Aguada Fort and Chapora Fort, which offer panoramic views of the coastline. Don't miss the Latin Quarter of Fontainhas, with its colorful Portuguese-style houses and charming narrow streets.
Indulge in Water Sports and Adventure Activities:
Goa is a haven for adventure seekers. Try your hand at thrilling water sports such as scuba diving, snorkeling, and kayaking to explore the vibrant underwater world. Head to the Mandovi River for a thrilling river rafting experience or embark on a dolphin-watching cruise along the coastline. For adrenaline junkies, a visit to the popular Bungee Jumping site in Mayem Lake or a trek to the Dudhsagar Waterfalls will provide an unforgettable adventure.
Immerse Yourself in Goa's Vibrant Nightlife:
Goa's nightlife is legendary, offering a mix of trendy clubs, beach shacks, and vibrant beach parties. Dance the night away at popular spots like Tito's or Club Cubana in North Goa or experience the laid-back vibes at beachside shacks like Curlies or Shiva Valley in Anjuna. From live music performances to beach bonfires and full-moon parties, the options are endless for those seeking an exciting night out.
Sample Goa's Exquisite Cuisine and Local Delicacies:
Goan cuisine is a delightful fusion of Indian, Portuguese, and coastal flavors. Indulge in mouthwatering seafood dishes like Goan fish curry, prawn balchão, and crab xacuti. Don't miss the traditional Goan sausages, pork vindaloo, and Bebinca (a layered Goan dessert). Visit the local markets and beachside shacks to savor delicious street food like Goan fish cutlets, pao-bhaji, and Goan-style barbecues.
Goa offers a plethora of experiences that cater to diverse tastes and interests. Whether you seek relaxation, adventure, culture, or culinary delights, this coastal haven has it all. So, plan your trip, soak up the sun on its pristine beaches, delve into its rich history, indulge in thrilling water sports, groove to the beats of its vibrant nightlife, and savor the delectable flavors of Goan cuisine. Prepare for an unforgettable journey that will leave you with memories to cherish for a lifetime.
Visit goa with us, stay in the most luxurious properties, and experience goa in a new way altogether.